Met verificatie in twee stappen (ook wel 2FA genoemd) voeg je een extra beveiligingslaag aan je WordPress account toe voor het geval je wachtwoord wordt gestolen. Nadat je verificatie in twee stappen hebt ingesteld, log je in twee stappen in op je account met behulp van:
Iets wat je weet, zoals je wachtwoord
Iets wat je hebt, zoals je telefoon
Deze pagina beschrijft hoe je verificatie in twee stappen activeert in WordPress.
App installeren
Om aan de slag te gaan met verificatie in twee stappen heb je een app zoals Google Authenticator, Authy, FreeOTP Authenticator, of Aegis nodig op je smartphone. In ons voorbeeld gebruiken we Google Authenticator.
Verificatie in twee stappen inschakelen
Verificatie in twee stappen is beschikbaar voor klanten die een Managed WordPress Hosting pakket hebben. Een gebruiker met de rol beheerder kan verificatie in twee stappen inschakelen.
1. Ga naar Security → Settings → Two-Factor Authentication
2. Om gebruikers om te laten inloggen via verificatie in twee stappen selecteer All Except Email bij de optie Authentication Methods Available to Users.
Klik Save Settings
3. Nadat Verificatie in twee stappen is geactiveerd kun je per gebruiker deze functie activeren. Dit doe je door het het gebruikersprofiel te bewerken.
Activeren in je gebruikersprofiel
1. Vanaf het WordPress dashboard ga je naar Gebruikers → Profiel. Scroll naar Two-Factor Authentication Options en klik op Enable bij Mobile App en Backup Authentication Codes.



2. Je ziet nu de QR en Secret die nog is in de Google Authenticator app.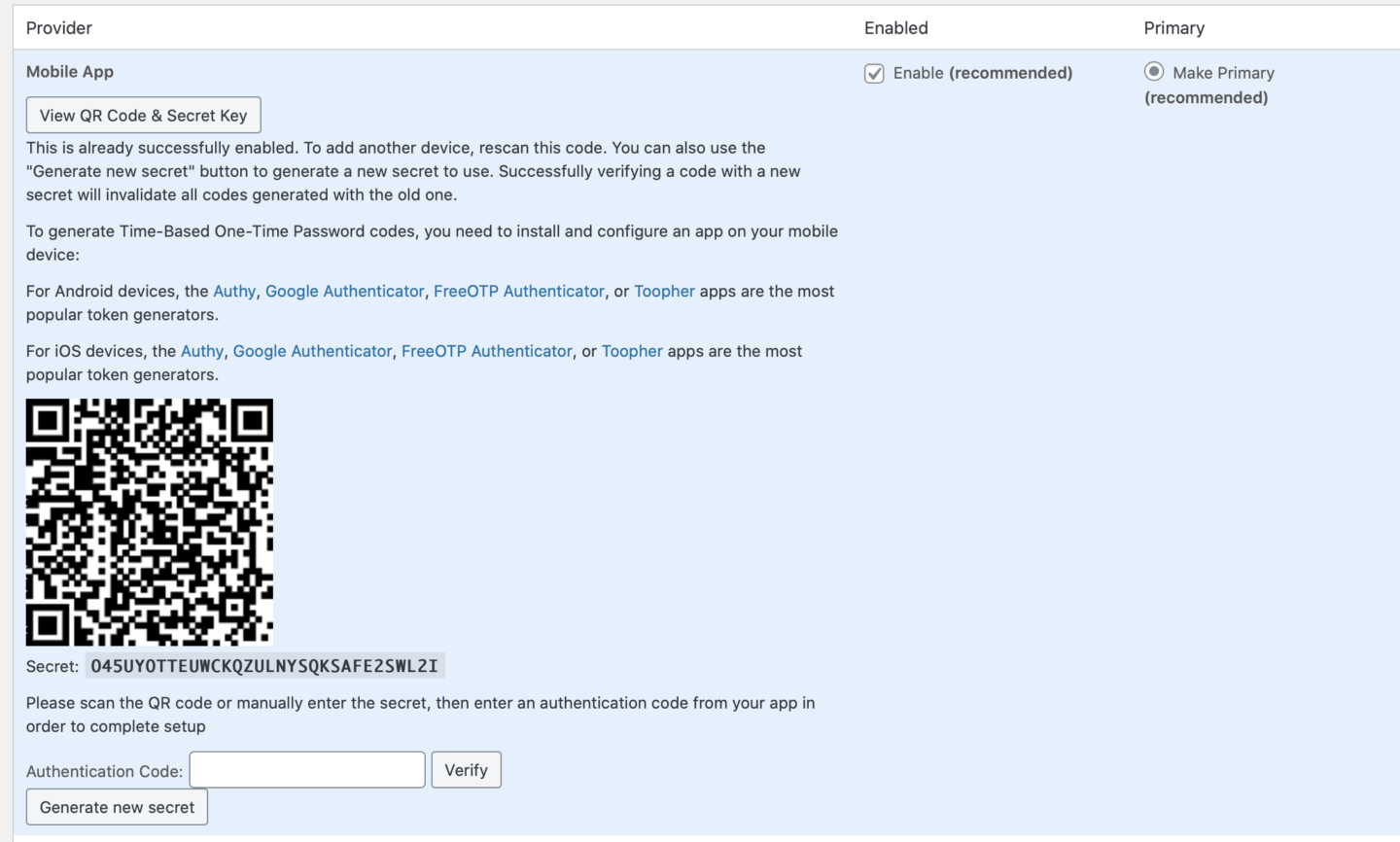 WordPress site toevoegen aan Google Authenticator app
1. Open de Google Authenticator app op je smartphone.
2. Volg de stappen in de app.
3. Je krijgt twee keuzes om een site toe te voegen, selecteer QR-code scannen of Instelsleutel invoeren
4. Bij de keuze QR-code scannen scan je de QR code die getoond wordt op jouw WordPress profiel pagina.
5. Bij de keuze Instelsleutel invoeren voer je de Secret in die onder de QR code staat.
6. Als Google Authenticator de QR-code of sleutel heeft herkent wordt de site toegevoegd aan de app.
7. Nadat je de stappen hebt doorlopen vul je de authenticatie code die door Google Authenticator wordt gegenereerd in onder de QR code en klik je op Verify.
8. Klik op Gebruiker bijwerken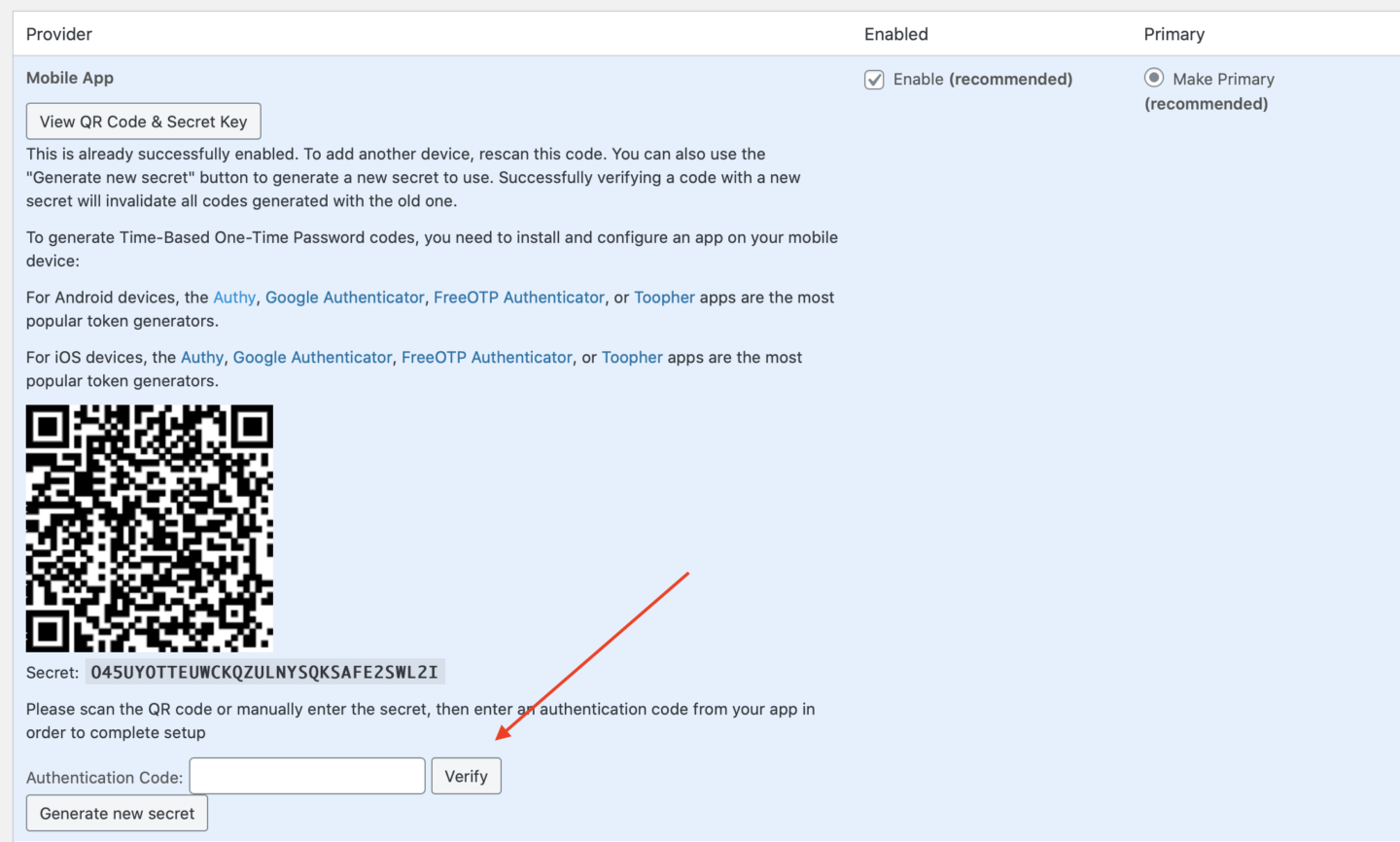 Nu kun je de 6-tallige code gebruiken iedere keer als je inlogt bij je WordPress site.

Activeren voor andere gebruikers
Als een gebruiker nu inlogt wordt de vraag gesteld of deze verificatie in twee stappen wil instellen. De twee opties die worden voorgesteld zijn uitgeschakelt. Door te klikken op de Skip link (linksonder) gaat de gebruiker door naar WordPress.
Vanaf het WordPress Dashboard gaat de gebruiker via het navigatiemenu naar Profiel. Hier kan verificatie in twee stappen worden geactiveerd zoals hierboven beschreven is.
Bekijk geactiveerde gebruikers
Als gebruiker met de rol beheerder ga je naar Security → Settings → User Security Check om te zien welke gebruikers verificatie in twee stappen hebben geactiveerd.